Unlucky Breaks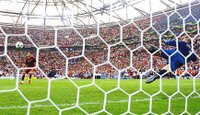 I couldn't believe it! First the Socceroos then Brazil and England got ousted from the World Cup! Aaargh! I suppose that was expected since there was going to be just one winner in the England-Portugal match. I would've wanted to see an England-Brazil or England-Portugal final though. It was most unfortunate that Becks got injured and Ronney got stiffed with a red card. The real shocker came when France defeated the five-time World Cup champions Brazilian team. French captain Zinedine Zidane can now go into retirement a happy man. Becks must be feeling pretty bummed out since this might well be his last WC appearance...
This will be the first all-European WC final since 1982 as France heads to the semifinals against Portugal on Wednesday in Munich and Germany plays Italy in Tuesday's semifinal in Dortmund. My money will be on Portugal. Hope they get to bring home the bacon this time around.
Meanwhile, here are some photos showing "the thrill of victory and the agony of defeat".



technorati tags: world cup, soccer, football, sports