Christmas Booty
The best part about Christmas is undoubtedly the gifts. Giving has its' own rewards, especially when you see a niece or nephew's eyes light up as they dive into one package after another. In the mad scramble of wrapping paper and ribbons and boxes and tags, nothing can compare to the joy of having chosen the perfect gift for a loved one. On the other hand, it's also fun to be on the receiving end.
My haul for this year was unexpectedly wonderful. Here are just some of them.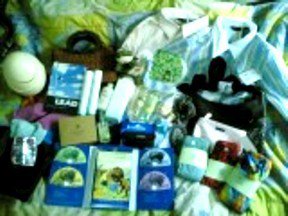 I received a small desk trashcan that looks like an unhatched egg with legs, a pink purse, a woven handbag, a messenger bag, a bag with matching purse, a toiletry bag with the works (eyeshadow, lipstick, lip balm, facial cleanser, towelette, hand gel, mouthwash) a book on leadership, a frog cd case, a stuffed frog bedecked in christmas attire, a wallet, underwear (yay! don't know about you but i always love it when i get them), some shirts, a blouse and several bottles of my favorite Bath & Bodyworks and Marks & Spencer scents. The most delightful surprise was given by my sister. Mind you, I wasn't expecting anything as extravagant, seeing as she is still studying. No wonder she wanted me to open her gift last. She gave me a book and cd set of The Lion, The Witch and The Wardrobe!
This unabridged version had Michael York as narrator. Oh my! I just had to play it then and there! My sister said she sacrificed the Nike wallet she had wanted to get for herself to buy me the gift. Awww...good thing that's what I got her for Christmas, huh? It was like some weird Gift of the Magi dream sequence. Only this time, we both were able to enjoy our gifts to the fullest. Can't wait for next year. But then again, my birthday's coming up soon so I hope to have as much fun then.