Do You Speak French And Broadway?
Aaargh! Parlez-Vous Francais and Love Changes Everything from the musical Aspects of Love which we saw last night have been running non-stop through my brain! Help!
Yesterday was a tiring but full day. Jen was already at my house by 7am as we had planned to go to 168, the new shopping mecca located in the heart of Binondo. It was a bargain-hunter's paradise! Most goods could be had at rock-bottom prices and then some! I quickly took advantage of the opportunity and got some of my Christmas shopping done. Have resolved to go back before December hits to avoid the expected rush of holiday shoppers. Was also able to sneak in some items for Jen's shower without her knowledge. Aided by my mom, of course, who acted as "principal distraction" while I went off in search of prizes for the games. We finished by 3pm and we went with Jen for her costume-fitting at CCP. While at the complex, we decided to have dinner at Dencio's Grill so that we'd have enough time to shower and change for the play we were going to watch that same night.
My mom and Jen don't look too tired here after almost a whole day's worth of walking through the multitude of stalls earlier, eh?
Afterwards, it was back to my house where we did our level best to wash away the last vestiges of dust and grime from our Divisoria sojourn. Here we are all gussied up right before going to see Aspects in Republic of Malate. Doesn't Jennie look great with earrings on, people? Hehehe. Am still trying to convince her pierced ears are the way to go...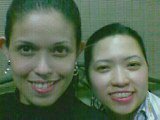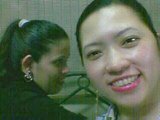 Today, Jennie's shower was held at her sister Miren's place over in Marcelo Green Village (not Merville as some people thought). It was one of my best-kept secrets ever. Weeks of devious plotting between Peachy and Jen's sisters was well worth it. Peachy sure did a great job creating this invite which was in keeping with the Wicked theme (
Wicked being the current favorite musical in the Nuyda household, there could not have been any other main theme):

The surprise shower went off without a hitch! She really wasn't expecting it. Here she is thanking everyone as well as pics of Peachy, Gigi and Hail.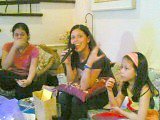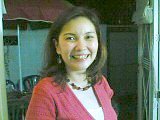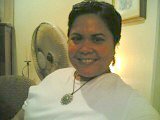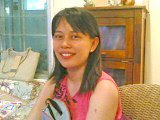 We left just in the nick of time as broadway karaoke was just beginning. (We didn't think we were going to be able to compete with the entire family's vocal prowess so we decided to slink off into the darkness. Lol!)
Maybe this song should be in the wedding, too. Didn't realize the lyrics definitely fit the occasion to a T. I hereby dedicate it to Jen...
Off
Into the world we go,
Planning futures,
Shaping years.
Love,
Bursts in, and suddenly
All our wisdom
Disappears.

Love
Makes fools of everyone:
All the rules
We make are broken.

Yes, Love,
Love changes everyone.
Live or perish
In its flame.
Love will never,
Never let you
Be the same.