Bursting With Buble'
October 12th proved to be one truly memorable night. It was the evening I got to see one of my favorite crooners in person!
Michael Buble is a Canadian who shot to fame via his remakes of old standards by Frank Sinatra, Dean Martin, Otis Redding, Ella Fitzgerald and the like. In a world dominated by bubblegum pop, he stands out. The fact that he is good-looking is just icing on the cake.
And so, it was no wonder that when we got wind that he was going on an introductory tour in Asia back in 2003, concert organizers fought tooth and nail to get him to perform here in Manila. And perform he did - to a gasping, overzealous crowd of Buble-converts. He made another brief pit stop in the country sometime early 2004, and the response was still the same. He had definitely earned heartthrob status.
I was among the millions who jumped on the Buble-wagon. I even bought his Christmas album which had just five songs! I liked him because I absolutely loved the songs he was singing. Having grown up with my father playing 'Ol Blue Eyes when I woke up each morning till the time the same music would lull me to sleep each night, he was a welcome respite from the incessant "noise" that boybands were churning out.
The day started off much like every other. Woke up at 5am, showered, ate breakfast, was in the office by 7:30am, worked the phones in the morning then had lunch. Then my friend (and officemate) Pepper rang me up with news that left me giddy. She had been the recipient of three upperbox complimentary tickets to MB's one-night only show that same night and she asked if I wanted to go. Was she bonkers? Who in their right mind would turn THAT down? It was settled. We just had one more person to invite. Who else but fellow Buble-fan, Christine. She, too, couldn't believe it. She was overflowing with excitement and just had to tell her boyfriend. Her boyfriend then expressed surprise that she didn't know his cousin was actually behind the marketing for the show. He said he could even get us better seats. I was almost hyperventillating at this point. Better seats than upper box? I must have done something good to deserve that kind of blessing...
The day flew in a flash. Eventually, we found ourselves at the coliseum being handed PATRON seats by the bf's cousin. Armed with a digital camera, CDs we had bought from a booth outside and a poster we wished would get to see his signature, we settled into our seats. When the lights dimmed to signal the start of the concert, screams erupted from different corners of the venue. It became deafening when he strode out into t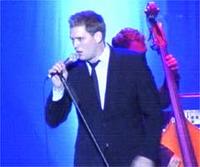 he spotlight and launched into his first song. He did not disappoint. Aside from singing my favorite tracks, he proved to be an engaging performer. He would set up each song perfectly by interspersing personal anecdotes that were oftentimes funny. At one point, he covered This Love by Maroon 5 and sang a few bars of Michael Jackson's Man In The Mirror, much to the audience's delight. He even went off the stage and proceeded to circle the coliseum, going up to the bleachers just so that they, too, (he said) could get their money's worth. What a nice guy! He even invited people to come close to the stage to get photos (which we did) and we got so close, it was spitting and sweat-drenching distance. (Will have photos in another post soon).


After a much-applauded encore, we began our trek to the valet entrance to get into my car so we could go home and relive the entire show in our dreams. We couldn't stop talking about it in the car. Then Christine got a call from the bf's cousin inviting us to the after-party in Red at Shangri-la Makati. OMG! More? And this time, we'd get to see Michael up-close! I could have fainted had it not been for the fact that I was driving...

Anyways, we got to the cocktails. Everyone there (from society matrons to actors and singers) was dressed to the nines and there we were, dressed in corporate gear. Talk about sticking out like a sore thumb...I could almost hear the song "One of these things is not like the other" from Sesame Street in the background. No matter. We weren't there for them. It was MB we wanted to see. We spotted him right away, coming out of the private room and heading straight to the buffet table laden with dimsum. He was stopped by a scantily-dressed woman teetering on high heels who whipped out a CD and asked for his autograph. Of course, we planned to do the same. We were reaching into our bags to pull out our CDs when a woman approached us and under her breath fiercely said, "Don't do that here. He's in a bad mood. He doesn't want to be bothered that way." Just like that, our chances (and hopes) of getting his autograph went kaput...

So we just stood there and tried to mingle as best we could. Drank a little wine and tasted some cheese, all the while hoping he would do the rounds and come within the same breathing space. Alas, that was not to be. He stuck with one group the entire time. Finally, we decided it was enough that we at least got to see him informally, so we went in search of the cousin who had been our ticket there. He apologized profusely and said MB didn't like the fact that flashbulbs kept flashing and people were furiously texting away on their cellphones while he was onstage. Given that, he may have had reason to be mad. But then again, shouldn't that be expected by now? I doubt we were the only country that did that. It definitely put a damper on things but hey, I still enjoyed myself. His CD has been on rotation since that night and I've got a bad case of LSS (Last Song Syndrome).

I've got you under my skin, I've got you deep in the heart of me...