Deep Impact
Do you know that a spacecraft, named after the above-mentioned Hollywood movie, was released last July 4th for a collision course with a speeding comet just so scientists can have a glimpse of what it looks like inside? Hey, I'm all for scientific study of the universe and am interested as to whether there is life beyond our earth but frankly, this was just way too much! Too expensive, too useless, too atrocious, too tasteless, etc, etc...
Funds for this suicide project could have been put to better use. The $333 million it took to complete would've fed and clothed so many people in various parts of the world. Bob Geldof and Bono, who have been spearheading the cause for the famine-ravaged residents of Ethiopia via Live Aid, would have welcomed such a gift.
At the same time the satellite was launched, Live 8 was being staged in several parts of the globe. From all accounts, Live 8 was the best concert ever. The galaxy of performers who participated in the event helped push the members of the G8 Summit to pledge to double aid to Africa to $50 billion, thus saving the lives of hundreds of thousands of people who would have died of poverty, malaria or AIDS. What Live Aid has done will most definitely have much greater impact than the last NASA experiment.
Scenes from Live 8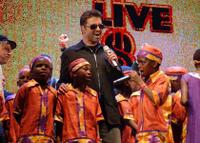 Let's all help make poverty history. Log on and see how you can make a difference.